We are the
choices we

make

Every step of the way, we've had a clear idea of who we are as a company: we are dedicated to exceptional coffee. Every choice we've made has just brought us closer to that ideal – all while doing better for our employees, our company and our planet. As we have innovated and grown, we've shown the whole world just how far a commitment like ours can take us.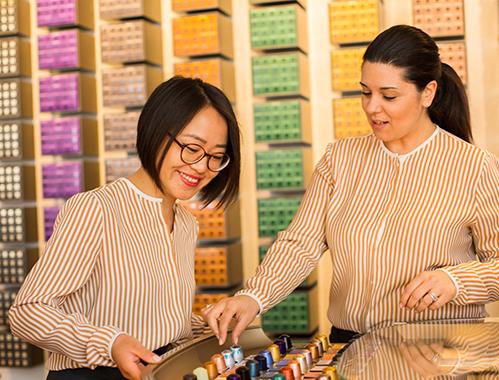 The Beginning
In 1976, Nestec, the Nestlé Group's development centre, filed the first patent application for the pressurized coffee extraction process. The system was invented by Eric Favre who became Nespresso's first CEO.
Our Roots
Inspired by Luigi Bezzera's 1901 espresso coffee machine, we developed a company around a simple idea: deliver barista-style coffee, anywhere and everywhere.
With four varieties of encapsulated coffee, we set to work bringing our revolutionary concept to life in the sectors of Switzerland, Japan and Italy. Only three years later, Nespresso would expand into the Swiss household market and create the Nespresso Club.
The Ultimate Coffee Experience
Delicious but simple; exclusive but ubiquitous, Nespresso was well on the way to crafting the ultimate coffee experience. Customers thought so too, so we expanded into France and the United States.
Part of that experience? Following our coffee from beginning to end. As a result of this concept, our capsule recycling program was also launched in Switzerland this year.
A Brave New World
This was a year where our technology got to shine. Our first internet site was built to offered a platform to promote Nespresso expertise and products on a global scale.
Our machines were evolving as well. The advanced C250/554 machine, with automatic features and a new thermobloc, launched as a breakthrough in the household sector.
Purposeful Partnerships
How do you make coffee with care? We launched the Nespresso AAA Sustainable Quality Program, in collaboration with NGO The Rainforest Alliance, promoting sustainable production and supply of high-quality coffee.
Flagship Foundations
This was the year we took on new challenges. The first Nespresso flagship boutique opened in Paris on the prestigious Champs-Elysees. While our Lattissima machine set a new standard in easy preparation of fresh milk specialty coffee recipes – with the use of one touch technology.
The Big Four
So many of our ambitions came to life this year. First, Dhjana became the first 100% AAA sourced Limited Edition coffee. Next, we launched an unheard of 4 new machines: PIXIE, our most innovative and ecological machine; Zenius and Aguila, bringing enhanced functionalities to professional consumers; and Lattissima+, for easier preparation of milk-based coffee recipes. Most importantly, we proved that evolution, growth, and sustainability are constants in our company.
Sustainability
Even in our history sustainability is never secondary. This year we created the Nespresso Sustainability Advisory Board (NSAB) to advance the company's pioneering approach to sustainable development. 84% of our coffee came from the Nespresso AAA Sustainable Quality Programme and we reduced the carbon footprint of a cup of Nespresso coffee by 20%. That was just the beginning. Even today, we're still improving how we impact the environment.
Learn more